Paul Nardone is no stranger to bold, innovative upgrades when it comes to natural foods products—several years back he spearheaded the transition of Annie's Homegrown foods to organic. Now he's done it on a larger scale, deconstructing an entire supply chain and reshaping it, to gather the nearly 20 million pounds of non-GMO corn his brand will use this year to produce its Our Little Rebellion collection of popped snacks. The crunchy treat is proudly igniting a "corn revolution," as thousands more acres in Nebraska are producing non-GMO corn to supply the demand, creating sustainable livelihoods for many more American farmers.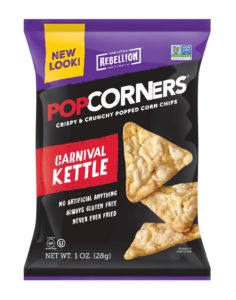 The line includes PopCorners™ corn triangles in flavors ranging from Jalapeno White Cheddar to Carnival Caramel; Bean Crisps™ offering a fiber- and protein-rich snack; and Crinkles™, a popped potato treat with BBQ or Sour Cream and Onion overtones. All are cooked without oil, are below average in sugar, low in fats, gluten-free and kosher, with no artificial ingredients. And of course, non-GMO—all three carry the butterfly seal indicating verification by the Non-GMO Project. They trumpet the company's claim that taste and health can coexist.
"We took an entire business and flipped it onto a non-GMO platform," Nardone said. He took the CEO helm at BFY ("Better for You") Brands in September 2015, and the Our Little Rebellion line launched this past August. Healthier snacks are the fastest growing segment of the snack industry, growing four times faster than conventional.
"Our new packaging better communicates [our] commitment [to taste and quality] while creating cohesion across all of our brand pillars," Nardone said. What began with PopCorners has evolved into a "righteous family of snacks that we believe will change the face of the category" by inspiring consumers to expect more.
Reconstructing a non-GMO supply chain
When Nardone and his team disclosed the plan to go non-GMO, many in the food business said it couldn't be done. How could they source enough non-GMO corn? Global agribusiness and food company Bunge, aware of the challenge, nonetheless resonated with the vision. They helped locate 59 farmers in Nebraska who could grow the supply—some were already cultivating non-GMO corn.
"We leveraged our commitment to buy more than 10 million pounds of corn this year," Nardone said. "It was an extremely bold commitment; we're going for 20 million pounds over the next year."
Third generation grower Jim McGowen is happy to have a premium-generating crop; the farmers are proud to help provide a product consumers want that simultaneously provides them a sustainable living. With the vast majority of corn grown in the U.S. being genetically modified, the brand spreads a hint of rebellion. "We're leading the charge for making non-GMO ingredients like corn available in a scaled capacity so shoppers have more non-GMO options in the grocery," Nardone said.
BFY has caused the number of non-GMO corn acres to surge. Less than 8 percent of U.S. corn acreage is non-GMO, but Our Little Rebellion products require the output of 8,000 to 10,000 non-GMO corn acres.
Our Little Rebellion snacks received final Non-GMO Project verification in May of this year. Educating the consumer starts right on the package bearing the Project's seal. "Consumers have GMOs on their minds," Paul said. "We've had an incredible response from consumers to move in the non-GMO direction, and the move made sense in terms of our global platform—we're already in 40 countries—and many countries don't want GMO products."
BFY senses a growing desire among Millennial consumers to be connected to their food and participate in the initiative. That's why it's called "Our" little rebellion. "'Little' reminds us not to take ourselves so seriously," said Paul. And of course, "Born in Liberty, NY" smacks of a rebellion capable of "revolutionizing the snacking aisle."
Carving art from the corn: crop art as a promotional tool
To celebrate harvest time as well as Non-GMO Month in October, BFY joined with the Non-GMO Project to create art cropping up directly from the corn fields that supply Our Little Rebellion snacks. On an 8.5-acre canvas, "revolutionaries" cut through corn stalks to replicate the Non-GMO Project butterfly seal and broadcast the slogan, Join the Corn Revolution! The event spread quickly on social media, exemplifying what the Project called "a creative approach to sparking the conversation about non-GMO corn production."
It's the kind of initiative eager, value-conscious consumers can rally around.
"We know it was the right long-term decision for our business to step up to a completely non-GMO platform," Nardone said. "We are actually making a difference."