2.6 million acres of grassland habitat lost in North American Great Plains in one year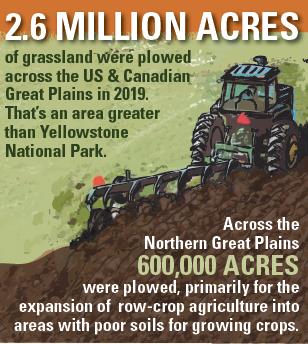 Published: October 7, 2021
Category: Industrial Agriculture Damage
Across the U.S. and Canadian Great Plains, approximately 2.6 million acres of intact grassland—an area larger than Yellowstone National Park—were plowed up in 2019 to make room for row-crop production, according to World Wildlife Fund's (WWF) 2021 Plowprint Report.
The new findings represent an increase of 500,000 acres of grassland conversion over the previous year, highlighting a concerning trend for one of the least protected and most at-risk biomes on the planet.
Nearly 600,000 acres were lost to the plow in the Northern Great Plains region alone—one of the world's only remaining intact grassland habitats and home to important wildlife including the black footed ferret, plains bison, and several species of birds not found anywhere else. Wheat drove the largest portion of grasslands loss in this region, representing 42% of newly plowed land, followed by corn (10%), and soy (10%).
"When you see images of devastating deforestation, it invokes an emotional response and an immediate connection to the climate impacts of that destruction," said Martha Kauffman, vice president, Northern Great Plains program at WWF. "But during each year over the last decade, we've seen the grasslands of the Great Plains being replaced by croplands at comparable rates to the clearing of the Brazilian Amazon. It's time we also sound the alarm on grassland conversion and take immediate steps to preserve the natural benefits and climate-fighting solutions this region provides."
Earlier this summer the Intergovernmental Panel on Climate Change (IPCC) delivered a dire message and warning that we must act now to protect our carbon storing ecosystems if we're going to stop runaway climate change. Like forests, grasslands play a critical role in sequestering and storing carbon, and similar to global deforestation, destruction of grasslands can also have devastating climate impacts. As climate related events, including the increase of intense wildfires continue, the importance of safeguarding regions like the Great Plains against carbon loss will be vital.
WWF supports the following policies, programs, and action that can play an essential role in protecting grasslands:
• Support for the proposed North American Grasslands Conservation Act – modeled after the North American Wetland Conservation Act, this legislation will help to kickstart the voluntary protection and restoration of our grasslands.
• Expand Sodsaver nationwide – expansion of this program will greatly reduce the negative impacts of crop insurance.
• Rethink renewable fuel standards and policies – discourage the conversion of grasslands to row crops for biofuel production and incentivize the planting of perennial grasslands on marginal cropland.
• Back the Central Grasslands Roadmap – support for this collaborative effort will increase the conservation of North America's central grasslands.
To download the full 2021 Plowprint Report and access the interactive online tool visit www.plowprint.org.
Source: World Wildlife Fund
To view source article, visit:
https://www.worldwildlife.org/press-releases/2-6-million-acres-of-grassland-habitat-lost-in-north-american-great-plains-in-one-year
Organic & Non-GMO Insights October 2021