Dannon, the nation's leading yogurt maker, recently announced collaborations to help the company fulfill its commitment to full non-GMO production, sustainable agriculture, and consumer transparency. Dannon also announced plans to label products containing genetically modified ingredients no matter what happens with the controversial national labeling law recently passed by Congress.
"Fewer, simpler, more natural and non-GMO ingredients"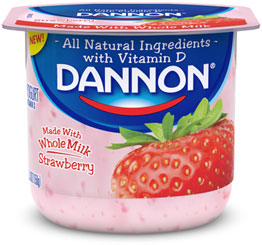 In April, Dannon announced its Pledge to eliminate GMO ingredients, source non-GMO ingredients and feed, use more natural ingredients, and provide complete GMO information to its consumers.
At a recent press conference, Dannon CEO Mariano Lozano said his company's non-GMO commitment is based on consumer demand.
"We are putting consumers at the heart of the discussion. Millennials are seeking natural, non-GMO products and want to know where their food comes from," he said.
In response, Dannon will reduce the number of ingredients in its products and use "fewer, simpler, more natural and non-GMO ingredients that are closer to nature," Lozano said.
Dannon recently introduced the first Dannon® and Oikos® branded products that contain more natural and non-GMO ingredients. Over time, Dannon plans to use non-GMO ingredients in all the company's Dannon, Oikos, and Danimals brands.
Dannon's non-GMO pledge is being promoted in a new television commercial featuring a young mother discussing how Dannon is giving consumers a choice to avoid GMO foods.
"Massive undertaking"
Dannon will go further by using only milk from non-GMO fed cows, an initiative that Lozano described as a "massive undertaking," because an estimated 90 percent of feed produced in the U.S. is derived from GM crops such as corn, soy, and alfalfa.
"We need to move farmers, crop land, and cows to non-GMO," he said. "We need farmers who will help us with this journey."
Dannon plans to start sourcing non-GMO feed in 2017 and complete the transition by the end of 2018. This will involve the conversion of an estimated 80,000 acres of farmland to produce non-GMO feed crops.
Collaborations with Green America, Non-GMO Project
To help facilitate the non-GMO feed transition, Dannon announced collaborations with Green America, which will help develop the supply chain for non-GMO feed, and the Non-GMO Project, which will provide third-party verification to Dannon's products.
Alisa Gravitz, CEO of Green America, called Dannon's Pledge historic. "This is the boldest non-GMO commitment ever made by a large food company," she said.
Gravitz emphasized Dannon's commitment to sustainable agriculture as also meeting consumer demand.
"Consumers want sustainability, better water quality, a reduced carbon footprint, and improved soil health," she said. "With this commitment Dannon will be on the cutting edge."
Green America's Center for Sustainable Solutions will help Dannon develop a supply chain for non-GMO feed. The Center's Non-GMO Working Group comprises individuals and representatives from companies all along the supply chain—from seed companies and farmers to grain suppliers, food companies, and retailers.
"We will help to bring key stakeholders to the table that can increase the supply of non-GMO feed," Gravitz said.
Megan Westgate, executive director of the Non-GMO Project, praised Dannon's commitment to sourcing non-GMO feed.
"The scale we are talking about is historic. It's a huge step forward in terms of consumer choice and providing more non-GMO options," she said.
Westgate cited the importance of feed in producing non-GMO products. "If we want to build a non-GMO supply chain, we have to address feed," she said.
The Non-GMO Project will verify that Dannon's products are non-GMO based on the feed, which is no easy task according to Westgate.
"(Verifying animal-derived products such as meat and milk) is the most complicated and difficult part of our non-GMO standard," she said.
Dannon to label GMO products even with GMO labeling law
Gary Hirshberg, chairman of Stonyfield Farm, Dannon's sister company, applauded Dannon's non-GMO commitment.
"This is an immensely bold and decisive business move," he said. "What they are taking on here is monumental and complex. In the end it's about a sustainable, cleaner food system."
Lozano described Hirshberg, who is also chairman of Just Label It, as "a key stakeholder to keep us on track" with GMO transparency.
Hirshberg discussed the growing consumer demand for GMO transparency and the GMO labeling bill passed by Congress.
"This law is inadequate and needs a lot of work. There are questions of enforcement, and the use of QR codes is ridiculous," he said, though also calling the bill "progress."
As part of its commitment to GMO transparency, Dannon announced that starting in July, and expected to be completed within several months, all Dannon products in the U.S. that have GMO ingredients will be clearly labeled as such. This will be independent of the U.S. government's recent passing of GMO labeling legislation.
Lozano said that Dannon's parent company Danone's recent purchase of White Wave Foods, which also sells Non-GMO Project verified products, will also help his company's non-GMO commitment. "It will only help us accelerate this journey," he said.