Proposition 37 News
Polls show that negative ads reducing support for Prop 37
LA City Council supports Prop 37
Genetic engineer supports Prop 37
Faith groups urge yes vote on Proposition 37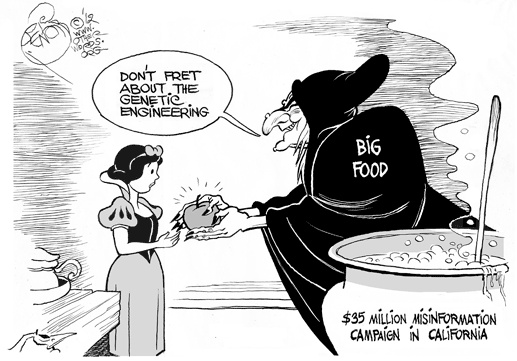 Published: November 1, 2012
Category: GM Food Labelling and Regulations
Polls show that negative ads reducing support for Prop 37
But polling was done before Yes on 37 ads began to run
A late-October poll by Pepperdine University showed that support for Proposition 37, the initiative to label genetically engineered foods in California, had dropped to 39%, while 50.5% of voters said they were against the measure.
Support for the measure decreased significantly because of a one-million-dollar-a-day, misleading advertising campaign by opponents led by Monsanto, which has contributed more than $7 million to defeat the measure.
Similar polling by Pepperdine in September found that more than 60% of voters supported the measure.
"The Pepperdine poll was taken after three weeks of deceptive opposition ads that went unanswered and before the Yes on 37 message got on the air. The world's largest pesticide and junk food companies have been spending a million dollars a day carpet bombing California with lies to confuse voters about a simple labeling law. Now our ads are up and many voters are hearing our message for the first time – that Prop 37 is a simple labeling law that gives us the right to know what's in our food, at no cost to consumers," said Stacy Malkan, spokesperson for the Yes on 37 campaign.
"On the Yes side, support is rushing in from all sides. We have a strong ground game with 10,000 volunteers out on the streets, we have a powerful ad, money is coming in the door and we have one of the most successful online organizing campaigns ever seen. We expect these will have a big effect during the last week in the campaign."
Malkan referred to a social media campaign that was recently described as "the best ad campaign on the web" by Tech Crunch, http://techcrunch.com/2012/10/28/the-best-ad-campaign-on-the-web/.
"We are in this to win, and the pesticide and junk food companies opposing this measure are worried we will win, as evidenced by their recent infusion of $8 million more into the opposition campaign in the last 10 days," Malkan said. Dupont contributed another $500,000 yesterday. Total contributions to the opposition are now at $44.2 million and the Yes side has raised $7.4 million.
"We have always been the underdog in this story, but we believe that when voters go to the polls next week they will value their right to know what's in their food and vote Yes on Proposition 37," Malkan said.
© Copyright The Organic & Non-GMO Report, November 2012

LA City Council supports Prop 37
The Los Angeles City Council unanimously passed a resolution supporting Prop 37.
"It's not often that the LA City Council votes unanimously to support a measure, but Prop 37 was a no-brainer. We have the right to know what's in the food we're eating and feeding our families," said Councilmember Paul Koretz, the resolution's author. "I'm proud to be a part of this true grassroots campaign in our struggle against the biggest pesticide and junk food companies in the world."
The Los Angeles City Council joins the California Democratic Party, Senator Barbara Boxer, Congresswoman Maxine Waters, Congressmen Brad Sherman and Howard Berman, and dozens of other California city and town councils, elected officials and candidates in endorsing Prop 37.
© Copyright The Organic & Non-GMO Report, November 2012

Genetic engineer supports Prop 37
The woman scientist who helped commercialize the world's first genetically engineered tomato recently "wholeheartedly" endorsed Californians right to know whether their foods are genetically engineered.
In an editorial in the San Jose Mercury News, Belinda Martineau, a molecular geneticist and author of First Fruit: The Creation of the Flavr SavrTM Tomato and the Birth of Biotech Food, wrote: "The question of whether to label genetically engineered (GE) foods, as Proposition 37 would require, is not about science. Prop 37 is about people having the right to know what's in their food and how it was produced. It's about making competition in a free market--the hallmark of capitalism--more transparent. And it's about fairness. American companies must label their GE products for sale in some 50 other countries; they should label them for us as well."
Martineau helped develop the world's first commercially available GE food, the Flavr Savr tomato, when she was a principal scientist at Calgene, Inc.
(Source: San Jose Mercury News)
© Copyright The Organic & Non-GMO Report, November 2012

Faith groups urge yes vote on Proposition 37
Religious and faith-based groups across California, including the Presbyterian Church, United Methodist Church, Dignity Health and California Council of Churches, are urging people to vote Yes on Proposition 37, the California ballot measure to label genetically engineered food.
Genetically engineered foods, also called GMOs, are fundamentally altered in a lab at the genetic level to combine the DNA of different species in ways that can't occur in nature.
"In some circles, GMO means 'God Moves Over,'" wrote Dana Hull in the San Jose Mercury News. Genetically engineered foods clash with various religious beliefs ranging from keeping kosher, to maintaining a healthy food supply, to protecting God's creations.
"It is immoral that consumers be left in the dark about what is in their food. Californians have been leaders in the public's 'right to know' on food labeling, and this is a good first step in continuing our pursuit of healthy food and market transparency," said the California Council of Churches, which represents 21 Protestant and Orthodox denominations and over 1.5 million church members throughout California.
© Copyright The Organic & Non-GMO Report, November 2012